If you're a professor of quantum physics, then you probably know all about String Theory. But, for the rest of us non-tenured pet owners, 'String Theory' can have a whole different kind of meaning.
And knowing just why your cat or dog loves to gobble down strings, twine, ribbons, rubber bands or laces can be just as difficult to understand. These are just some of the countless unsolved mysteries of the universe.
Cat-butt-and-string-Credit.jpgBut when your furry friend gets inspired to experiment with lengthy particles, you should definitely know what to do. Once you see the evidence (and by "see the evidence," I mean you see a string hanging out of your pet's butt!), the first question you'll probably ask yourself is:
"Do I try pulling it out?"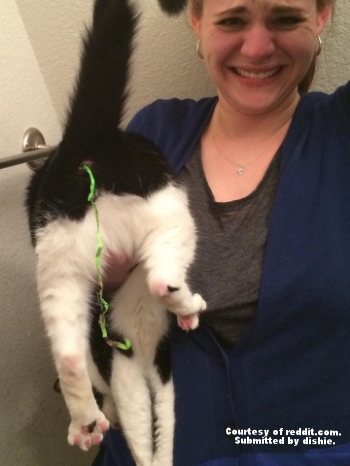 Fair question! And, just as many physicists might say, "Well, maybe. It depends."
I realize that this may not be the most-helpful answer, but it really does depend on several conditions.
The first thing you can do is to try GENTLY pulling the string out. If it starts to slide out, you might be lucky. Keep pulling gently to see if you can remove it entirely. BUT (no pun intended – really!), if you feel ANY resistance to the pull, you should take your pet to the vet or nearest Animal ER right away. If the string is caught or stuck anywhere along their digestive tract and you continue to pull, you may (as many pet owners have sadly done) tear your pet's intestines and worsen the problem.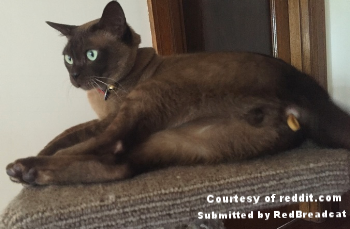 Cat-swallowed-rubber-band-stuck.png
Things other than string do get swallowed and try to find their way out, like the rubber band in the photo above. However, many of the same principles of "extraction" apply.   Although cat-focused, these articles and the advice I give in them apply to dogs, as well.
http://www.preventivevet.com/cats/cats-and-string-to-pull-or-not-to-pull
http://www.preventivevet.com/cats/linear-foreign-bodies-cats-strings-a-dangerous-combination
We hope these are a bit easier to understand than Quantum Physics.
Have a great week and stay safe!
Dr. Jason Nicholas
The Preventive Vet
---
---
COMMENTS FROM LOVINMYPUP ADMINISTRATOR:    DOBERMAN PUPPIES ARE KNOWN FOR THEIR OBSESSION WITH SWALLOWING EVERYTHING THAT THEY CAN GET THEIR MOUTHS ON.    I PURCHASED  BELLA , A BLUE DOBERMAN WHEN SHE WAS 4 MONTHS OLD.    WITHIN 2 MONTHS SHE SWALLOWED A PIECE OF MULCH AND HAD TO HAVE SURGERY TO RELIEVE A BOWEL OBSTRUCTION.    14 MONTHS LATER SHE SWALLOWED THE ARM OF A BEANY  BABY AND AGAIN NEEDED SURGERY.     AS SHE GREW SHE STARTED FOCUSING ON TISSUES.   OFTEN THE TISSUES THAT ARE  INGESTED ARE WRAPPED AROUND THE STOOL IN INTERESTING PATTERNS.   BELLA CAN DESTROY TOYS WITHIN 10 MINUTES.  NOW THAT SHE IS 5 YEAR OLD I DECIDED TO TRY A RUGGED TOY.    THE TOY WAS ADVERTISED AS ALMOST INDESTRUCTIBLE.  IT HAD STRING TIGHTLY BRAIDED ON EACH END.   WELL,  BELLA DESTROYED THE TOY AND WOUND UP EATING  SOME OF THE INDIVIDUAL STRINGS.   THE NEXT STOOL WAS WRAPPED IN RIGHTLY COLORED STRING.    I LAUGHED SO HARD.  WHAT A COMICAL SITE.     THERE HAVE BEEN TIMES THAT PAPER WRAPPED STOOL WAS NOT COMPLETELY EVACUATES OR THE STOOL WAS PASSED BUT PAPER REMAINED.   I WAS ALWAYS ABLE TO GENTLY REMOVE THE FOREIGN SUBSTANCE WITH GENTLE MOTION AND NO RESISTANCE.  IF YOU MEET RESISTANCE DO NOT PULL—BRING YOUR PET TO THE VET IMMEDIATELY!         KEEP COMING BACK – THERE IS MORE TO COM,   AND DON'T FORGET TO SHARE YOUR LOVE WITH YOUR PET TONIGHT.