https://www.cuteness.com/
By Kayleigh Roberts| March 16, 2020
As the world continues to react to the developing news of the COVID-19 (commonly known as Coronavirus) pandemic, people everywhere are taking steps to protect themselves and their loved ones— and this includes pets, of course.
Here's everything you need to know about the risk of COVID-19 to pets, and the steps you can (and should) be taking to keep everyone in your family—humans and pets alike—safe and healthy.
Can pets contract COVID-19?
The first and most pressing question for pet owners when it comes to Coronavirus is obvious: Can pets contract the virus?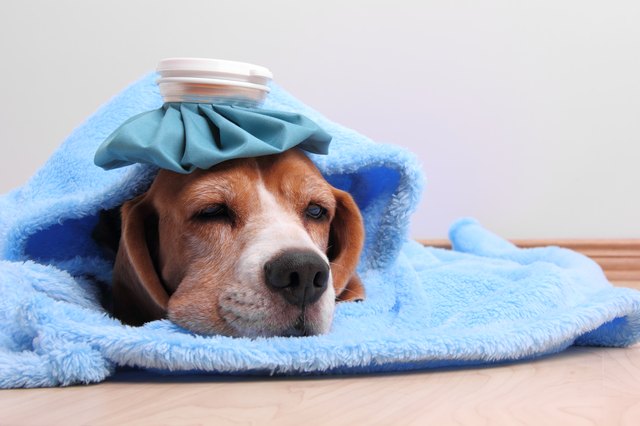 credit: Sadeugra/E+/GettyImages
The short answer is no, it does not appear, at this time, that pets can contract COVID-19. The longer answer gets much more technical and scientific, of course, but it boils down to biology. As of now, at least, it doesn't appear as though COVID-19 is compatible with dogs' cells. (We do not have a definitive answer on its compatibility with cats' cells at this time, but there are currently no reports of cats contracting the virus or exhibiting its symptoms.)
"Infection requires the ability of the virus to enter host cells and replicate, which then elicits an immune response and results in the first symptoms," David Logan, head of research at Waltham Science, explained on Twitter in late February. "Preliminary analyses suggest that the mechanism of cellular [entry] is not compatible with dog cells."
Didn't I hear about a dog in Hong Kong who contracted the virus?
If you've been following the updates about COVID-19 worldwide and are predisposed to wonder how the disease might impact your pets, then chances are you came across a story about a dog in Hong Kong that tested positive for Coronavirus.
Those reports, which circulated in late February, centered on a Pomeranian in Hong Kong that had tested "weak positive" for COVID-19. While that seems very concerning at first glance, it's important to really dig into the facts.
First of all, the dog in question was given three swabs: nasal, oral, and rectal. The nasal and oral swabs tested "weak positive" for the virus, while the rectal swab returned nothing. A blood test also came back negative for COVID-19. The dog was quarantined and has been kept under observation since the "weak positive" test and hasn't exhibited any symptoms of Coronavirus. What does that mean, exactly?
As Logan explained on Twitter in a series of tweets about the situation: "Does this mean the virus has 'spread to dogs'? No. The dog's owner had the virus and just as she could contaminate the surface of a door handle via shedding, it is possible for her to contaminate the surface of her dog. This is very different from her dog being infected."
"Further analysis will confirm if the dog has an immune response, which will be the definitive evidence on whether the virus can indeed infect dogs," he added. "Until then, the most likely explanation is that the dog has licked its owner and had low levels of oronasal contamination."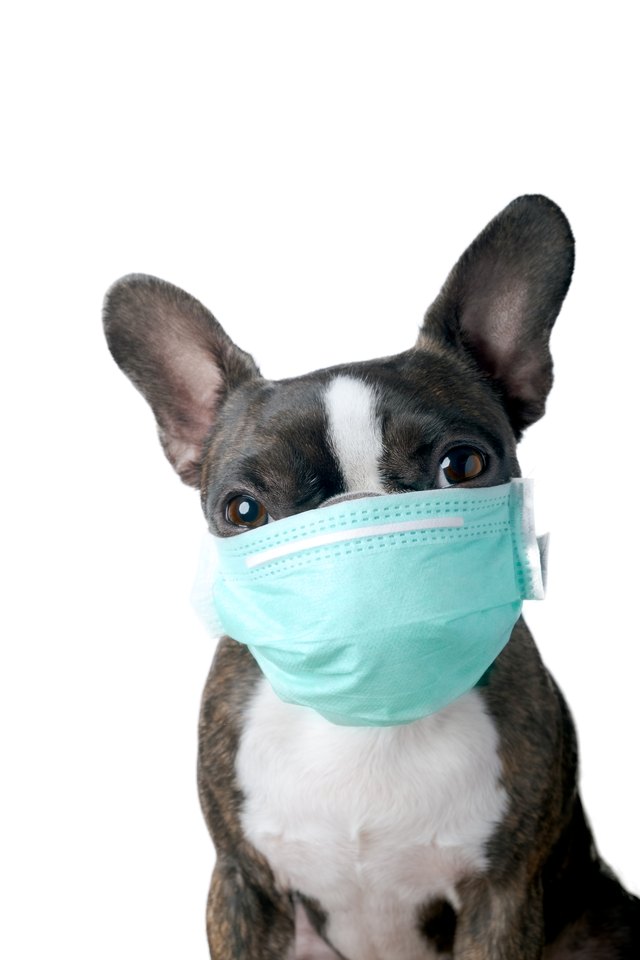 credit: RubenPH/iStock/GettyImages
Can dogs spread COVID-19?
Even though dogs don't appear capable of contracting COVID-19, there have also been concerns about pets' ability to spread the disease. According to the Hong Kong SAR Agriculture, Fisheries and Conservation Department, this doesn't seem to be the case.
"At present, the AFCD does not have evidence that pet animals can be infected with COVID-19 virus or can be a source of infection to people," the department said in a statement.
What about cats?
While we are not aware at this time of any cats being tested for COVID-19, according to Banfield Pet Hospital, in a post updated March 13, 2020, "there is currently no evidence that dogs or cats can be a source of coronavirus infection to humans or other animals." We will update this story if more information on COVID-19 and cats becomes available.
What do pet owners need to know about COVID-19 and pets?
While research into the issue is, of course, ongoing and could change as new information becomes available or if COVID-19 mutates in the future, here's a quick guide to what pet owners need to keep in mind about Coronavirus as it relates to pets:
Wash your hands—a lot: This is standard practice in life and especially now, as the COVID-19 spread has been designated a pandemic. Experts recommend including interactions with pets and other animals in the the list of activities that warrant a trip to the sink. Wash your hands before and after interacting with pets and other wildlife.
Your pet probably isn't at risk for contracting—or spreading—Coronavirus: According to the CDC, "There is no reason to think that any animals including pets in the United States might be a source of infection with this new coronavirus. To date, CDC has not received any reports of pets or other animals becoming sick with COVID-19. At this time, there is no evidence that companion animals including pets can spread COVID-19."
Avoid contact with pets if you become sick with COVID-19: While dogs and cats don't appear capable of contracting COVID-19 themselves, the CDC still recommends limiting contact with pets and other animals for individuals who are diagnosed with Coronavirus. "You should restrict contact with pets and other animals while you are sick with COVID-19, just like you would around other people. Although there have not been reports of pets or other animals becoming sick with COVID-19, it is still recommended that people sick with COVID-19 limit contact with animals until more information is known about the virus."
If you become sick with COVID-19, arrange for alternate care for your pets: The CDC has also issued a statement urging pet owners who are diagnosed with COVID-19 to arrange for a friend or loved one to care for their furbabies until they recover. "When possible, have another member of your household care for your animals while you are sick," the CDC writes. "If you are sick with COVID-19, avoid contact with your pet, including petting, snuggling, being kissed or licked, and sharing food. If you must care for your pet or be around animals while you are sick, wash your hands before and after you interact with pets and wear a face mask."
If you're worried about your pets' health at any point, call your vet for advice: This is standard advice, but it's still the best course of action, even if you suspect that your pet may be exhibiting symptoms related to COVID-19.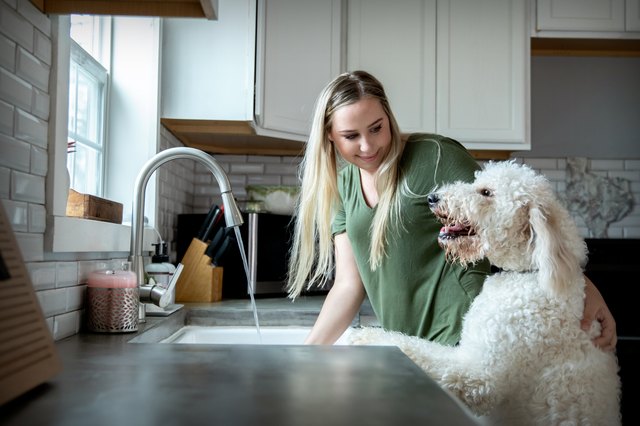 credit: Courtney Hale/E+/GettyImages
It does not appear at this time that cats or dogs can become sick with COVID-19, nor spread the virus.
However, if you become sick, it's safest to limit contact with dogs, cats or other animals. We still do not know much about the virus, and it is a developing situation, so it's best to play it safe.
If you become sick with COVID-19, the CDC urges you to arrange for alternate care for your pets. It's a good idea to put a plan in place even if you feel fine.
If you're worried about your pets' health at any point, call your vet for advice.
Stay safe and healthy out there!
________________________________________________________________________________________

COMMENTS FROM LOVINMYPUP.COM:
Here is some great information on Covid-19 and your pets.  Since Bella is a Service Dog, she is always with me when I go out.   She definitely creates a lot of socialization with other customers.   But now  I have to be  very careful – even though it doesn't look like pets can be inflected with this strain of virus.    What if someone who is infected sneezes or coughs next to her. and the droplets land on her fur .  Then I come along and pet her  fur or she lays near me for comfort and I can possibly transfer the droplets to my hands . if I get those droplets on or my hands, they can easily transfer to my face. Either I get the virus or can transmit it to someone else.    I am not allowing anyone near her when we are grocery shopping,  which is the only time I leave my house right now.    As a retired Registered Nurse I know the value of Infection control practices..  Stay safe.
Don't forget to check out the banner/links to the various on line stores to the right of this page  (lap top) or beneath the article (smart phone).  There are traditional pet stores as well as well as  specialty stores for the unusual  gift for the pet parent who has everything!     There is also a link to Amazon and Walmart where you can purchase anything that they sell.      You can order from any of the links on this site like Petco, 1800 PetMeds,, or  Chewy.com and more,   Just click on the preferred  link and order!.
Make sure you share your love with your pet each and every day!