https://www.scientificamerican.com/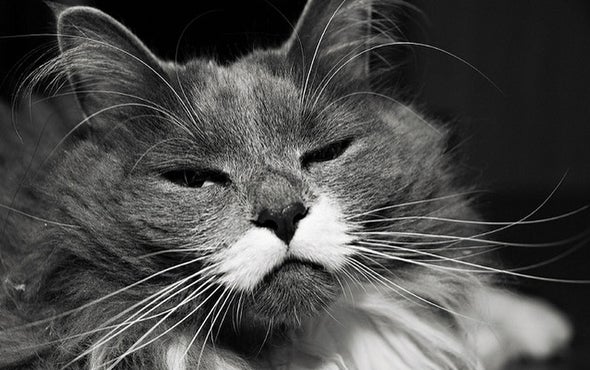 Credit:  Corey Balazowich Flickr (CC BY-ND 2.0)
Ramona Turner, a veterinarian specializing in feline care for 25 years, owns two Fresno, Ca.–based animal hospitals. She answers this riddle about our furry friends' strange behavior.
Cats, from our domestic companions to lions and tigers, are exquisitely susceptible to a volatile oil found in the stems and leaves of the catnip plant.
When cats smell catnip they exhibit several behaviors common to queens in season (females in heat): They may rub their heads and body on the herb or jump, roll around, vocalize and salivate. This response lasts for about 10 minutes, after which the cat becomes temporarily immune to catnip's effects for roughly 30 minutes. Response to catnip is hereditary; about 70 to 80 percent of cats exhibit this behavior in the plant's presence. In addition, catnip does not affect kittens until they are about six months old and begin to reach sexual maturity.
So, how does catnip work? Nepetalactone, one of catnip's volatile oils, enters the cat's nasal tissue, where it is believed to bind to protein receptors that stimulate sensory neurons. These cells, in turn, provoke a response in neurons in the olfactory bulb, which project to several brain regions including the amygdala (two neuronal clusters* in the midbrain that mediate emotional responses to stimuli) and the hypothalamus, the brain's "master gland" that plays a role in regulating everything from hunger to emotions.
The amygdala integrates the information flow from the olfactory bulb cells and projects to areas governing behavior responses. The hypothalamus regulates neuroendocrine responses through the pituitary gland, creating a "sexual response." That is, the cat essentially reacts to an artificial cat pheromone.
Human brains are physiologically different from cat brains and people do not react to catnip by getting "high." Native Americans, however, once used catnip for the uncontrollable cries of infant colic. It also serves as a mild sedative in some herbal teas. In alternative medicine circles, catnip is commonly recommended by herbalists to lessen migraine headaches and to relieve cramps, gas, indigestion, insomnia, nervousness and anorexia, or as an herbal paste to reduce swelling associated with arthritis and soft tissue injury.
*CORRECTION: Initially, this phrase read "two almond-size neuronal clusters in the midbrain…" Almond-size refers to the amygdala in humans, not cats.
COMMENTS FROM LOVINMYPUP.COM:
Catnip is the magic dust for cats.  They literally have a blast when catip is introduced to their environment.   We have 2 cats that jump and perform all kinds of antics when we give them catnip.
Make sure that you check the links on the right side of this page for great pricing on pet supplies and products. Also note that Amazon and Walmart are sites that you can purchase anything that they sell..
Lovinmypup.com is also looking into restarting the program of featuring your pets on line. No decision has been made as to the location of this feature. It may be on this site or on a seperate blog site. More information will follow as decisions are made, Keep coming back for more information and future updates.
PLEASE FEEL FREE TO LEAVE YOUR COMMENTS OR OPINIONS BELOW. AND DON'T FORGET TO SHARE YOUR LOVE WITH YOUR FURRY FRIENDS EVERY DAY!