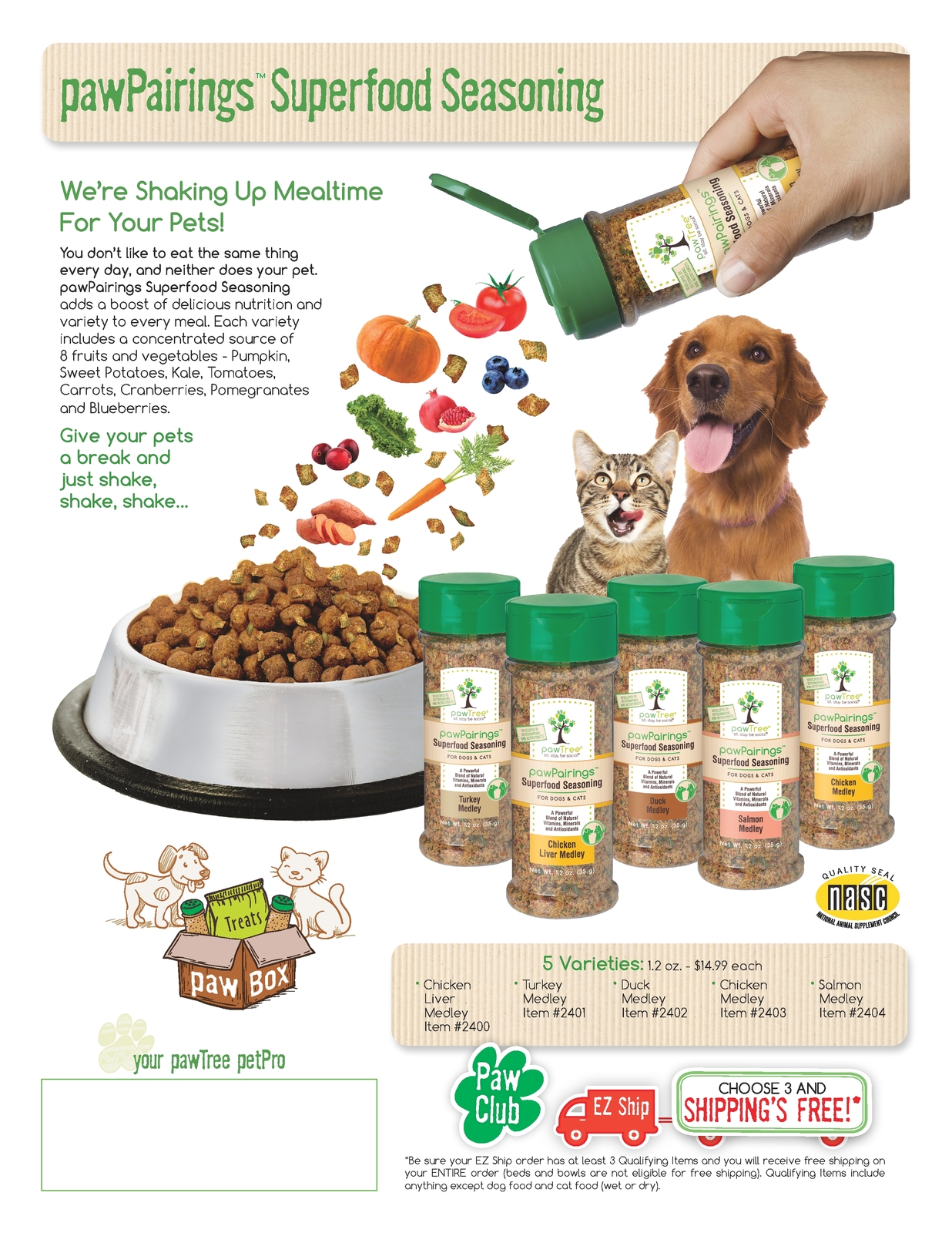 My name is Marsha LoVerso and I am your Pet Pro from pawTree,com/lovinmypup.   To your left is a coupon worth approximately $40 worth of product FREE!  These products are well worth trying- and all you pay is shipping.  Use the following codes after Picking out the flavor of your SUPERFOOOD SEASONING (PAW05CC)  AND  for  a 5 # BAG OF ALL NATURAL CATFOOD use (CAT49CC).  YOU PAY SHIPPING ONLY!  Go to the web site for your FREE samples through June 30. 2017.  GET YOURS NOW!

COMMENTS FROM LOVINMYUP.COM:
SUPER-FOOD SEASONINGS ARE PHENOMENAL!    IF YOU WANT TO ACHIEVE WELLNESS AND KEEP IT FOR AS LONG AS POSSIBLE IN YOUR PET YOU NEED TO TRY THIS..   JUST A SPRINKLE ON YOUR PETS FOOD AND THEY ARE ENJOYING THE  HEAVENLY FLAVOR WHILE GIVING A BOOST TO THEIR OVERALL HEALTH IN A NATURAL AND GRAIN FREE PRODUCT.   ALL PRODUCTS ARE FULL OF VITAMINS, MINERALS AND ANTIOXIDANTS.,   I AM SO PROUD TO BE ASSOCIATED TO THE pawTree PRODUCTS.    BELLA LOVES ALL THE PRODUCTS.   AND I NEED TO KEEP HER STRONG AND HEALTHY AND WITH ME AS LONG AS DOGGY   POSSIBLE, SINCE SHE IS MY SERVICE DOG.
Also check out the amazing sales that are happening through the 18+ links to a variety of pet supply stores, ie. Petco, Petsmart, 800 Pet Meds, plus many specialty stores for pets and pet parents in your families or friends. There are also links to Amazon and Walmart where you can purchase anything in any department – not just pets and pet supplies. It is one stop shop and learn.
If you want your pet featured on this site, you can visit my Facebook page , Lovin My Pup, click on " Visitor post " and ask for details  or send me a request  for more information (Marsha LoVerso) by Instant Messenger.  I will send you notice when the post goes on line.
We can also memorialize a pet who has passed for all eternity on line. This is a great way to give the pet a final tribute, and give the pet family a sense of closure and forever documentation of his/her life with you.
And remember to share your love with your pet (s) each and every day!