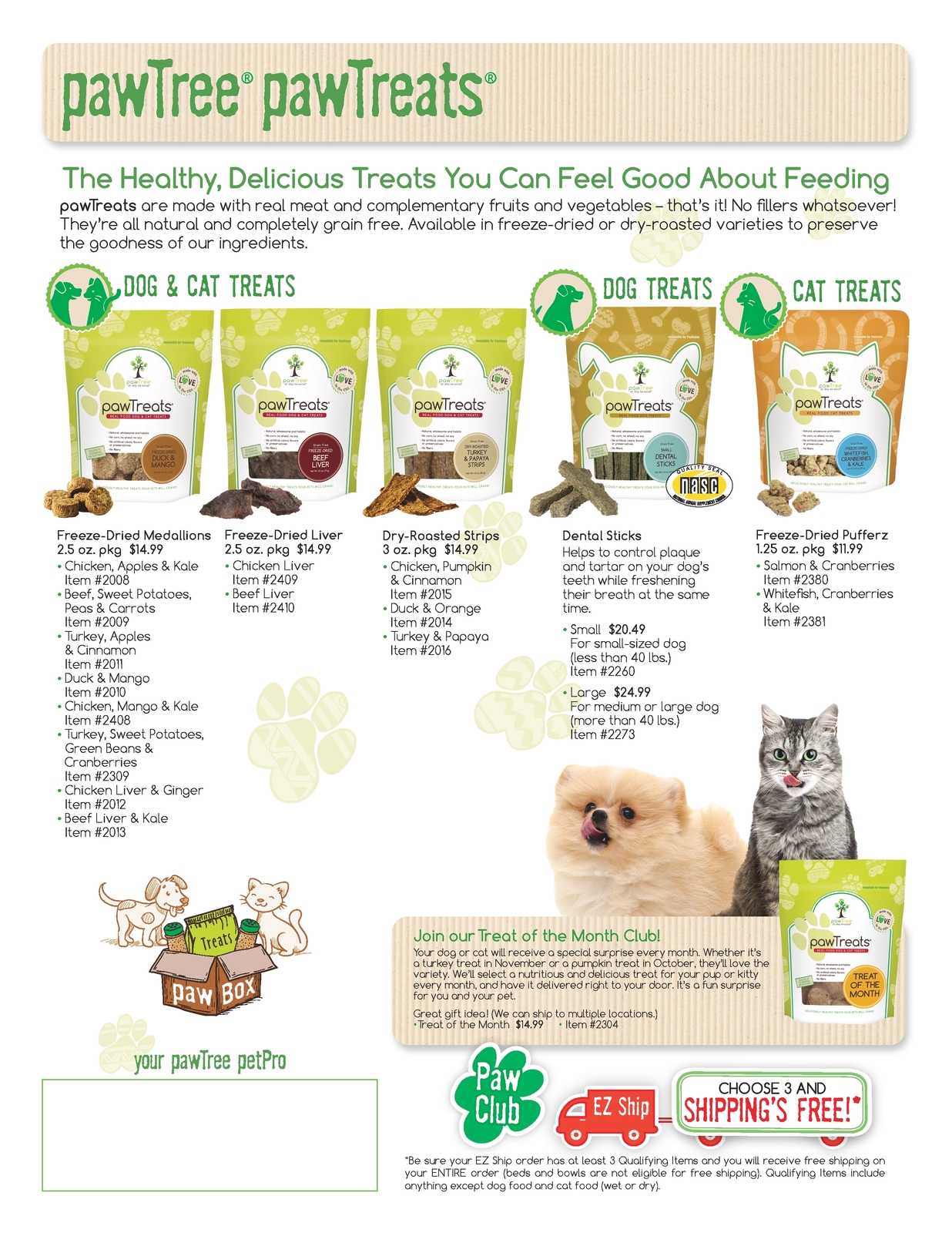 THIS IS AN AMAZING COMPANY WHOSE PRODUCTS ARE MADE IN THE USA!    THE BEST THING ABUT THIS COMPANY IS THAT THE PRODUCTS ADDRESS THE ISSUES THAT YOU IDENTIFY IN YOUR PET PROFILE.
WHETHER YOU WANT TO BOOST YOUR PET'S IMMUNE SYSTEM,  LOW ENERGY LEVELS. DIGESTIVE ISSUES,  LOOSE STOOLS, EXCESSIVE SHEDDING, DULL OR DRY COAT., STIFF JOINTS, HAIRBALL CONTROL, URINARY TRACT HEALTH – OR MANY OTHER ISSUES THAT PET PARENTS FACE ON A DAILY BASIS.   THERE ARE ALSO PRODUCTS FOR SKIN, HOT SPOTS, EAR CARE, AND HOT SPOTS.
I AM YOUR PET PRO,  MARSHA LOVERSO.   I WILL BE SENDING OUT FREE SAMPLES OF THE SEASONINGS AND THE TREATS.   REMEMBER,  THESE ARE ALL NATURAL AND GRAIN  FREE PRODUCTS WHICH CONTAIN CONCENTRATED FREEZE DRIED PROTEIN, AND 8 FRUITS AND VEGETABLES  
IF YOU WANT TO GET YOUR  OWN FREE SAMPLES OF A SUPERFOOD SEASONING AND A 5# BAG OF CAT FOOD,   GO TO www,pawTree.com/lovinmypup , COMPLETE YOUR PET PROFILE AND USE THE FOLLOWING COUPON CODES
1. SUPERFOOD SEASONING ………..PAW05CC  
2.  CAT FOOD ……………………………..CAT49CC   
IF YOU HAVE NY QUESTIONS PLEASE FEEL FREE TO CONTACT ME THROUGH EITHER my  pawTree  WEB SITE OR MESSENGER.     I BELIEVE IN THE QUALITY OF THESE PRODUCTS AND I BELIEVE YOU WILL FEEL THE SAME WAY.   I KNOW YOUR PET WILL LOVE THEM!.    REMEMBER TO SHARE YOUR LOVE WITH YOUR PET EACH AND EVERY DAY.