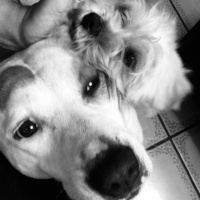 It's the 2nd Annual Pet Suffocation Awareness Week. We'd like to take the opportunity to raise awareness of this still too-little-known-about, yet still far-too-common pet danger!
Photo of Teddy & Luna: their story is below
Pet suffocation happens to hundreds of animals each year! And it's not just small dogs that suffocate in potato chip, pretzel, popcorn, and other snack and food bags. It's also…
Medium-sized and large dogs – more than 50% of dogs who suffocated weigh over 30 pounds, and 15% weighed over 60 pounds!
Cats – including outdoor and stray cats, who find bags in the garbage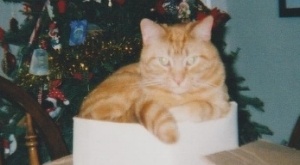 Max lost his life in a plastic pet food container
Pet suffocation doesn't just kill pets; it devastates families in the process!
Here are just a few of the stories and comments we've received over the past couple of years from families who have lost pets to suffocation…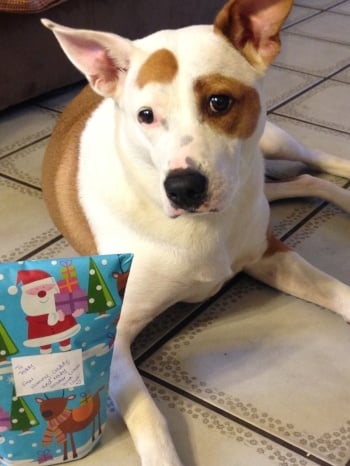 "It was a normal day for me and my family. My husband was off from work, so we decided to run errands. We fed the pups and let them out to use the restroom before heading out. We crated our dog, Luna, because we didn't trust her. She was recently adopted, and we didn't know what she was capable of. We left Teddy in the room with her but not in a crate. We had Teddy for almost five years and knew that he wouldn't give any trouble. We would sometimes leave for work for eight hours and come back to find Teddy snoozing on the couch, so we knew we could trust him. We were gone maybe an hour or so, no more. We got home and I made a bottle for my son while my husband went to go get the dogs from the room. I remember holding my son and feeding him on the couch when my husband shouted from the room that Teddy wasn't breathing. He said that he found a Doritos bag over his head, and that he must've dug it out from the trash. It all felt so surreal. I didn't know what to do…I was shaking. My husband was performing cpr when I told him that we should rush him to the emergency room. We all got into the truck and drove off as fast as we could. We finally got to the emergency room, and the nurses took him right away no questions asked. We were then placed into a room, and waited no longer than five minutes before the vet came back with the most devastating news we could possibly get. We had hopes…we thought there was still a chance that we could save him and get our baby back. The ride back home was painful. We were so torn and heartbroken. And what made it worse was that it all happened in front of our other dog, Luna. She was terrified when we came back, and for weeks she was depressed that she lost her big brother and best friend. The thing is we had no idea that a bag could take the life of our Teddy. Teddy was so brave and always happy…he was strong and playful…we never expected this to happen and wish we knew the dangers of bags. You see it all the time…warning labels for children. Well Teddy was our child…"
"I will write at a later date. This is too awful a story to even write about. I can barely talk to people about it without breaking down."
"I came home after dropping my middle child to day camp. I heard a rustling sound coming from upstairs. I ran into my room and seen my 6 month old puppy with his head in a cheezie bag. I immediately took the bag off his head. He was salivating alot and breathing very very hard. I picked him up and brought him outside for 30 min in the fresh air, until his breathing and heart rate returned to normal. My heart still hurts. I never realized that he could get his head stuck in a bag. This pup is my heart and soul. If I lost him…I don't know."
"We have known Reno for months now. She was just 12 weeks old when she met my dog Sammy who was also around the same age. They grew up together and I would often take care of her when her family went on vacation or to take her to the park with us.

Today

we were notified that Reno, at the young age of 9 months old, had suffocated on a plastic bag. I can't help thinking of how much she must have panicked in those last few moments. I will do anything to keep my puppy from being suffocated. It doesn't matter what size or age your dog is or how well they are trained. Accidents CAN happen. Don't think they won't happen to you."
Absolutely devastating!
This week we're asking you to help us and Prevent Pet Suffocation by raising awareness of this devastating pet hazard to protect pets (and wildlife). Raising awareness is crucial, and it's easy. Here's how you can help…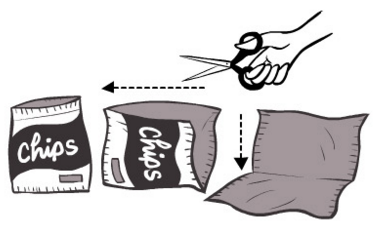 Cut your chip/snack bags flat before throwing them out
Thank you everybody! Your help means a ton to us and to those who have suffered the devastation of losing a pet to suffocation! Your tweets, Instagram and Facebook posts, and your outreach will raise awareness and it will save lives! Have a great week.
Dr. Jason Nicholas
The Preventive Vet
COMMENTS FROM THE LOVINMYPUP ADMINISTRATOR:   THIS ARTICLE MADE ME REALIZE JUST HOW MUCH I TOOK FOR GRANTED ABOUT HOUSEHOLD DANGERS.   BELLA LOVES TO GO GARBAGE HUNTING.   I FINALLY HAD TO LOCK UP THE GARBAGE BEHIND A KITCHEN CLOSET DOOR.     THE FESTIVITIES OF THANKSGIVING ARE NOW OVER.    AS I LOOKED AROUND MY KITCHEN.  THERE WERE HALF FILLED CHIP BAGS ON THE COUNTER.  THE GARBAGE HAD EMPTY BAGS OF ALL THE SNACKS FOR THE HOLIDAY.    WE ARE STARTING THE SEASON OF FAMILY, FRIENDS, PARTIES, AND THE JOY OF CHRISTMAS AND NEW YEARS.
MORE AND MORE BAGS THAT POSE A THREAT TO THE SAFETY AND SECURITY OF OUR  PRECIOUS  PETS.