https://www.cathealth.com/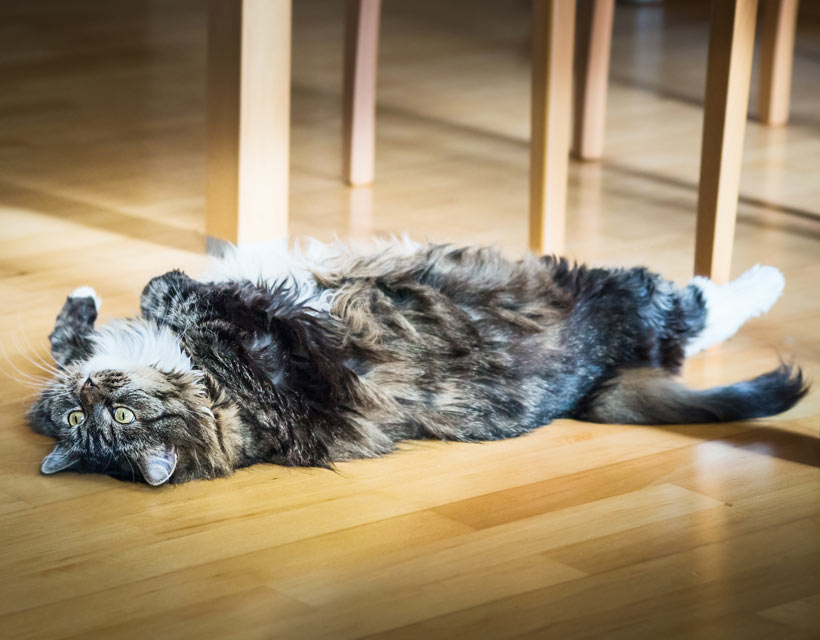 Trip and fall accidents involving pets happens more commonly than most people would believe. Our pets love to be with us, and sometimes that means they're right underfoot when we start to move. We don't realize they're there, and we can trip and be on the ground in an instant.
Not only can trip and fall accidents happen to a cat's owners, but it can also occur with visitors to the home, who may not be used to having cats around.
While it's even more common for dogs to be involved with trips and falls than cats, it's still important to be aware of it with your cat and do what you can to avoid it.
If your cat tends to be underfoot a lot, make it a habit to look around before you move. This can take a bit of practice, but once you make it a point to do it consistently for a few days, it should become a habit.
Adjust Your Routines
Perhaps there are certain situations into which your kitty tends to inject herself. For instance, many cats hang around nearby when their owner is working in the kitchen because they're hoping to get a taste of something that falls to the floor.
If someone in the home is particularly vulnerable to trip and fall accidents, such as a disabled or older person, keep that in mind when considering the best type of pet to get. A hyper kitten, a small dog that darts around a lot, or a very large dog that can't get out of the way quickly might not be good choices.
If you can identify times when your kitty is most likely to be under your feet and cause you to trip, you can adjust your routines to avoid it. Use baby gates, for example, to keep your cat out of the kitchen while you're cooking.
You can also provide a spot for your cat to sit and watch you from safely. So, if your cat likes to watch you cook, put a cat perch in the kitchen and give her treats and praise when she uses it.
Use a Bell to Alert You
If your cat uses stealth mode to get under your feet a lot, try putting a bell on her collar. That way, you'll always hear when she comes around, and that will help you remember to look for her before you move. Just make sure to use a breakaway collar that will come off if your cat gets into a small space and gets it caught on something.
Make Sure Your Cat Gets Enough Attention
If your kitty is underfoot a lot, it could be that she wants more attention. Make sure you spend at least 20 minutes a day playing interactively with your cat. Use wand toys to imitate prey, and make sure your kitty is getting proper exercise and attention.
You can also use puzzle toys to help your cat stay engaged and not feel bored, which may help if a cat is trying to get attention by always being under your feet as you work in the home or walk around.
***************************************** *****************************************************************
COMMENTS FROM LOVINMYUP.COM:
A great article on cats safety in regard to falling.  Enjoy!
Don't forget to check out the banner/links to the various on line stores to the right of this page  (lap top) or beneath the article (smart phone).  There are traditional pet stores as well as well as  specialty stores for gifts that would make any pet parent ecstatic!  There is also a link to Amazon and Walmart where you can purchase anything that they sell.
We are delighted to have n affiliate agreement with  Embark Vet (DNA testing for pups).    This testing not only provides a DNA profile but also provides genetic information on various propensities towards genetic illnesses that your pup might be prone to based on their breed.   It is well worth the fee for all of the information that you get from the finished report.
And if you are looking for the perfect Holiday Gifts for Pet parent Fanatics check out the awesome products on the following links:  Cherrybrook,  BoxDog, Pet Flow, Pillow Pets, and Fitbark (the Fitbit for dogs)
If you are in need to order pet supplies and you use Petco,. 1800 PetMeds,, or  Chewy.com,  you can order directly from this site.   Just click on the preferred  link and shop for traditional  pet products,  as well as unique gifts for the pet fanatics on your shopping lists!  ** Please note that Lovinmypup will receive a small percentage  from each purchase.through the links on this site.    This percentage helps us keep the site hosted so we can bring you the information and education that you need.
 We thank you in advance for your assistance in keeping this site operational.
Purchases through these links  help me keep this site up and running.
Make sure you share your love with your pet each and every day!
NOTE:
Each purchase made through this web site on Amazon or any other banner  will generate a small percentage payment to Lovinmypup.com. via an affiliation agreement..
Make sure you share your love with your pet each and every day!
PLEASE NOTE:
******EACH PURCHASE MADE THROUGH THIS WEB SITE FROM  AMAZON OR ANY OTHER BANNER LINK WILL GENERATE A SMALL PERCENTAGE PAYMENT TO LOVINMYPUP.COM.    THANK YOU, IN ADVANCE,  FOR HELPING TO KEEP THIS SITE ON LINE. ****