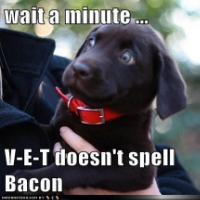 I hope this year's holiday activities have been fun and enjoyable for you and your family–including the furry, four-legged ones, too.
Historically, this time of year many families welcome new pets into their homes. If you got a beautiful new puppy or kitten (of any age!), CONGRATULATIONS on the new family member! That's awesome.
As you know, many pets, at any age, can have some serious anxiety issues about going to the vet. It's our goal as veterinarians to create as low-stress an experience as possible. But there are some things you can do too.
Here are some great tips on helping ease dogs' and cats' fear about their upcoming veterinary exams–thus, hopefully alleviating some of your stress as well.
Visit your vet for 'free love.' Help your pet have a better experience and association with your vet's office by bringing them by for occasional social visits—no pokes and prods, just petting and treats.

Use pheromones, medications, or other tools to help your pet feel less anxious in the car on the way to the vet's office. Check out our article on travel anxietyfor some solutions that might help your pet. And for cats, getting them into their crate without stressing them out first, helps a lot!
Book one of the earlier appointment times in the day, so that your vet is less likely to be running behind when it comes time for your pet's visit.
Discuss the Fear Free practice principles with your veterinarian and their team.
Whether your pet is a puppy or kitten, or an adult dog with anxieties, these tips can help. For more information on the Fear Free movement, as well as more helpful tips, please check out our cat and dog articles on this very topic.
I wish you all a warm, safe, happy, and healthy New Year!
Dr. Jason Nicholas
The Preventive Vet
COMMENTS FROM LOVINMYPUP:  
THIS ARTICLE IS VERY HELPFUL.  BELLA IS MY SERVICE DOG..  SHE GOES EVERYWHERE WITH ME AND NEVER SHOWS FEAR OT LACK OF CONTROL.  BUT WHEN WE GO TO THE VET'S OFFICE SHE STARTS TO SHAKE WHEN WE ENTER THE WAITING AREA.    SHE WILL QUIETLY SIT ON THE SCALE WITHOUT MUCH TROUBLE.     HOWEVER,  WHEN WE ENTER THE ROOM SHE STARTS TO TRY TO GET UNDER THE WOODEN SEAT DESIGNED FOR THE PET PARENT TO SIT UPON.    THEN SHE WILL HIDE HER HEAD UNTIL THE STAFF COMES IN.    I AM NOT REALLY SURE WHY SHE DOES THAT.  SHE DID HAVE 2 MAJOR SURGERIES AS A PUP, BUT NO WHERE ELSE SEEMS TO BOTHER HER.   I THINK I WILL TAKE THE SUGGESTION AND TALK TO MY VET ON HER NEXT VISIT.
HAVE A GREAT DAY!
http://www.preventivevet.com/