By Carmen Angelica
It can be tough to know what to do when a friend's pet passes away. Losing a pet can be hard on the owner and those who have known the pet, because the pet truly becomes a beloved member of the family. So here are some nice things you can do for someone to help them with the loss of their pet.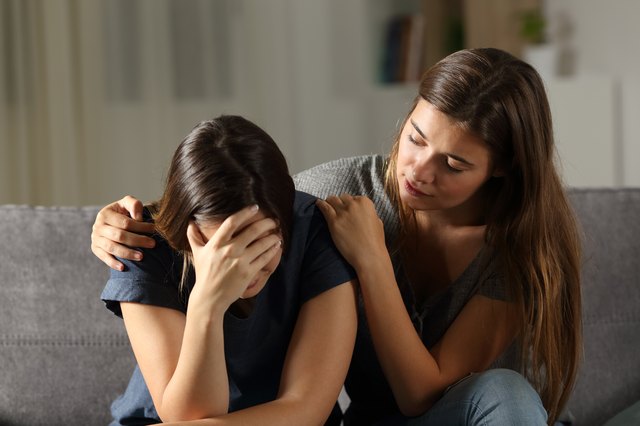 credit: AntonioGuillem/iStock/GettyImages
Pick up or make a card that expresses how sorry you are for their loss. Write that you are there for them and if you knew the pet, a fond memory you have of them. Getting a card can be a lovely reminder to your friend that they are not alone, while respecting if they would like some solitary time to grieve.
Your friend may be feeling very lonely after losing their loved one. Calling them to let them know you are there to hear what they have to say is a kindness that is rarely done in the age of texting. Even if there isn't much to be said, the act of physically listening lets your friend know they have your support. Then you can give advice if they ask for it, or simply tell them jokes if they need to laugh.
Your friend may not even have words to express it, but if they had a pet they loved they probably spent time hugging and snuggling their pet. Now that their pet is gone, they might need a hug. Even if you are not an especially snuggly person, your friend will appreciate a hug if you offer it and they say yes.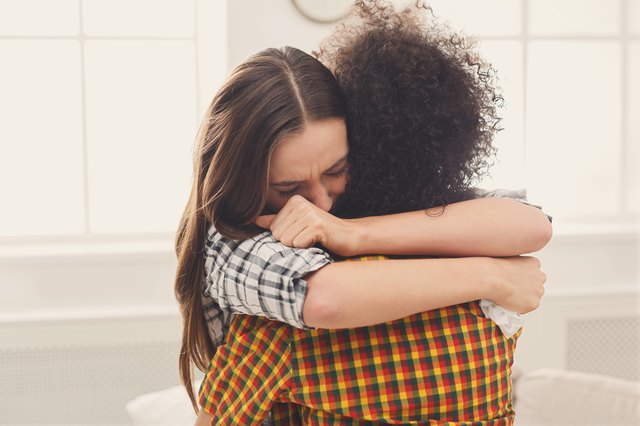 credit: Milkos/iStock/GettyImages
4. Donate on their pet's behalf
It's a wonderful gift not only to your friend, but to pets and animals out there that need help. Especially if your friend's pet died of medical complications or illness, donating to an organization that helps pets with that illness is a lovely and kind act. However, donating to any cause that helps animals will help your friend (as well as the animals).
5. Check in with them over time
Healing from the loss of a pet takes time. Do not expect your friend to recover quickly or even fully. Pets make an impact on our lives, and losing them stays with us. Checking in with your friend lets them know you understand and respect their loss and are there no matter how much time has passed.
6. Give them food and calming gifts
Your friend is probably sad and tired and in need of some relaxation. So bake them some foods for when they are ready to eat, give them calming scented candles, or some soothing tea. When you're sad, nourishment can be the first thing forgotten while the most important in the healing process.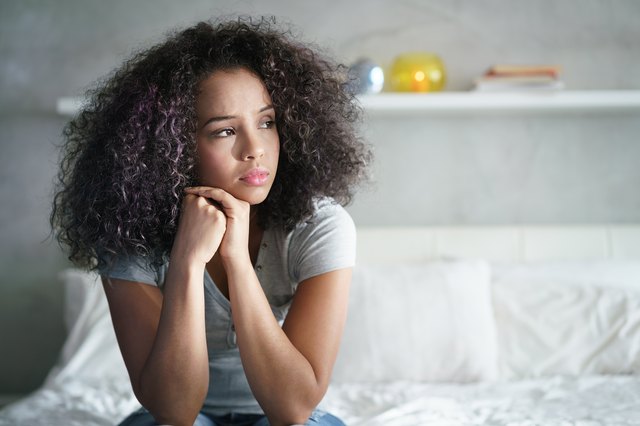 credit: diego_cervo/iStock/GettyImages
7. Offer to help them with their pet's items
When a pet passes away, it can be hard to decide which of their things to keep and which to get rid of. Sometimes it can be a real gift to have someone else take care of it. If your friend is ready and wants the help, you can offer to help them clear out their pet's personal effects. If they want to store things instead of getting rid of them, help them do that. Doing it alone can be an incredibly sad moment, but having a friend there to help can make this difficult process better.
8. Put them in touch with a support group or hotline
If your friend is feeling alone, they might be helped by some organizations or others who are dealing with a similar loss. There are some helpful hotlines provided by organizations like the ASPCA or Tufts University, or they can look up some support groups they could become active in at Pet-Loss.net.
Most of all, being a good friend is the best way to help. So be patient, kind, and there for your friend, and they will appreciate it.
COMMENTS FROM LOVINMYPUP.COM:
For some reason, several of my friends have been dealing with the loss of a pet.   No two friends have reacted to the trauma in the same way.  Reactions do depend on the personalities of the friends who have lost and the bonds established with  their pets.  It appears that those friends who have more than one cat or dog fare far better than those who lose their only pet.     This article points out some things that you can do to help your friend deal with their loss.  Personally I always send a card and bake cookies or brownies for my friends.  In the end, everyone has to deal with loss in their own way.  My wish is that all of our fur babies will live long and healthy lives.
.Don't forget to check out the banner/links to the various on line stores to the right of this page  (lap top) or beneath the article (smart phone).  There are traditional pet stores as well as well as  specialty stores for gifts that would make any pet parent ecstatic!  There is also a link to Amazon and Walmart where you can purchase anything that they sell.
We are delighted to announce a new affiliate agreement with  Embark Vet (DNA testing for pups)  this testing not only provides DNA testing but also genetic information on various propensities towards genetic illnesses that your pup might be prone to   based on their breed.   It is well worth the fee for all of the information that you get fro the finished report.    I ordered a kit and had my Bella tested.   I received a 16 page report answering all of the questions that I had about my service dog!   The great news s tat Bella has no genetic tendencies for the most common deadly diseases prone to Doberman Pincers, like  DCM..   This company provides one of the most complete genetic testing profiles that I have seen.  If you have questions – check out this site for report examples.
If you are in need to order pet supplies and you use Petco,. 1800 PetMeds,, or  Chewy.com,  you can order directly from this site.   Just click on the preferred  link and shop for traditional  pet products,  as well as unique gifts for the pet fanatics on your shopping lists!   Please note that Lovinmypup will receive a small percentage  from each purchase.through the links on this site.    This percentage helps us keep the site hosted so we can bring you the information and education that you need.
Make sure you share your love with your pet each and every day!