https://www.cuteness.com/                                          By Carmen Angelica   August 5, 2019
Summer is here!  So it's more important than ever to be conscious of your dog and cats water intake. But how much water, exactly, do dogs and cats need to take in every day?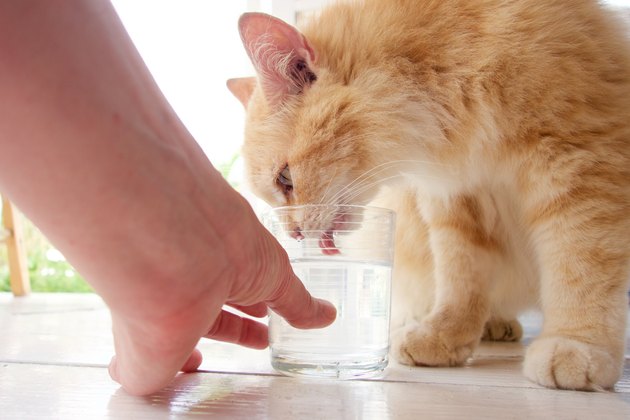 Signs of dehydration in cats and dogs
Cats and dogs can easily become dehydrated, especially as the weather gets warmer, in many ways. Cats and dogs not only lose water through peeing and pooping, but also through the act of trying to cool down by panting. Dehydration can be dangerous or even deadly, so be sure to make water readily accessible and monitor your pet's water intake.
Signs that your cat or dog is dehydrated are if they develop dry mouth, sunken eyes, lack of energy, panting or loss of appetite. If you pinch their skin and pull gently on release healthy hydrated skin should snap back into place, but if they are dehydrated it will move slowly back into place and this is a sign of severe dehydration. If you press your dogs gums and they go from white back to pink quickly than your dog is well hydrated but if it takes more than a few seconds this is also an indicator of dehydration. If you notice your cat is not using the bathroom regularly, this can also be a sign that your cats body is dehydrated and trying to combat that my stop excretion. If you cat is not urinating two or three times a day, you should check in with the vet.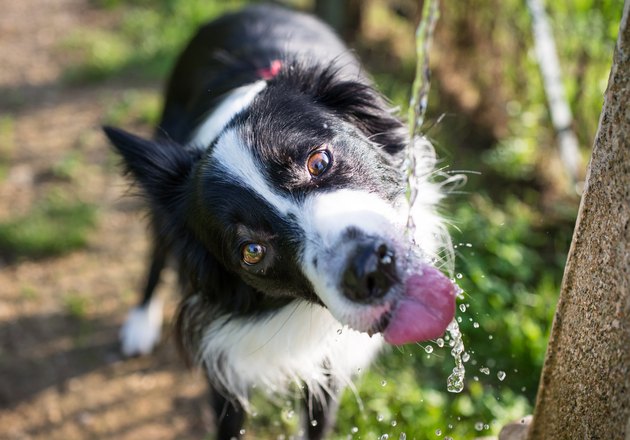 Making sure your pet stays hydrated
Besides making clean water available to your dog or cat in bowls (and we do recommend placing multiple water bowls around the house), there are a few different ways to make sure your pets are well hydrated. Canned food can provide more liquid, but if you use kibble, simply soaking the dry kibble in water, sodium-free chicken broth, sodium-free beef broth or sodium-free tuna juice gives your pet a tasty option to get more water into their diet. Just don't leave the soaking food out for too long or it can make the food spoil.
Some cats and dogs even like having ice cubes or ice chips in their water or food. And when on a walk with your dog, make sure to bring water and a collapsible bowl so that they can keep drinking water after playing outside.
Cats can be fickle about what they prefer to drink from. Some cats do not like drinking out of plastic drinking bowls, so try using stainless steel or ceramic bowels that are shallow enough so your cat doesn't have to dip their head in too deep to drink. Some cats prefer to drink water from moving water sources, like a fountain or your sink faucet. If you notice this to be the case, there are water bowls that have a fountain for your cat to drink from. Just make sure that you thoroughly clean the bowl, no matter what style bowl you use for your pet or bacteria can grow.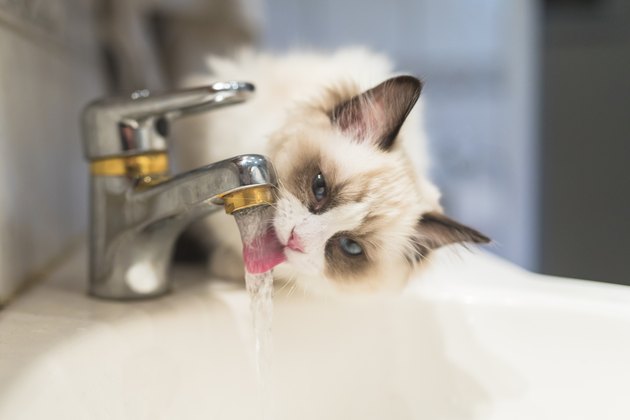 It is easier than you think for your pet to become dehydrated. The best way to stop it is to prevent it from happening, but if you notice the warning signs, make sure to get them to a veterinarian as soon as possible. Be aware and take these preventative actions to surround your pet with enough water, and your dog or cat will be happy and hydrated!
************************************************************************************************************************************
COMMENTS FROM LOVINMYPUP.COM:
Hydration is very important to the health and well being of your  pet.   When summer comes pets,  love the out doors and tend to exercise a great deal.    It is very important that you monitor fluids during this exercise.    If your pet likes to stay outside on the deck or patio, there should always be a bowl of fresh water near him/her.    This is especially important in a pet with underlying disease or illness.  I love that this article gives you information that you will need  to identify dehydration in your pet.    Enjoy the beautiful weather but keep this article in mind.
If you chose to order any pet supplies  please go to the  banner of your  choice on this site and click on the link.  Then Lovinmypup.com  will get a small percentage of the sale from your purchase.  This  helps defray the cost of hosting this site so you can continue to enjoy the articles. .  My primary concern is to educate pet parents but any little bit will help keep us up and running.    Please help us stay afloat!
At  Lovinmypup we have tried to accommodate all pet parents and their fur babies' needs with  banner/links to the various popular on line stores. the banners are located  to the right of this page  (lap top) or beneath the articles  (smart phone).  There are traditional pet stores as well as well as  specialty stores for gifts that would make any pet parent ecstatic!  There is also a link to Amazon, Chewy, and Walmart, 1800PetMeds to name a few. You can purchase anything that Amazon and Walmart sell.     CHeck Out the banner link for  Embark Vet (DNA testing for pups).    DNA testing for Humans and Dogs is an up and coming field of science.   Learn the idiosyncrasies of your pups  genetic composition and what health concerns that you might be faced with in the future     Just click on the links and shop for pet products and more,  as well as fabulous gifts for the pet fanatics on your  lists!   .  We thank you in advance for your assistance in keeping this site operational.
Don't forget to check out the banner/links to the various on line stores to the right of this page  (lap top) or beneath the article (smart phone).  There are traditional pet stores as well as well as  specialty stores for the unusual  gift for the pet parent who has everything!     There is also a link to Amazon and Walmart where you can purchase anything that they sell.
We are delighted to have an affiliate agreement with  Embark Vet (DNA testing for pups).    This testing not only provides a DNA profile but also provides genetic information on various propensities towards genetic illnesses that your pup might be prone to based on their breed.  This company provides one of the most complete genetic testing profiles that I have ever seen.  If you have questions – check out their site for report examples.  They also continue testing as new information becomes available..
We are also proud to announce a new affiliate agreement with Wolfgang USA.  This company sells American made products for your precious fur babies like amazing leashes and collars and much more.    Plus a full line of patriotic products.  Please check this out!
You can order from any of the links on this site like Petco, 1800 PetMeds,, or  Chewy.com,   Just click on the preferred  link and order!.
Make sure you share your love with your pet each and every day!
EACH PURCHASE MADE THROUGH THIS WEB SITE FROM  AMAZON OR ANY OTHER BANNER LINK WILL GENERATE A SMALL PERCENTAGE PAYMENT TO LOVINMYPUP.COM.    THANK YOU FOR HELPING TO KEEP THIS SITE ON LINE