https://www.popularmechanics.com/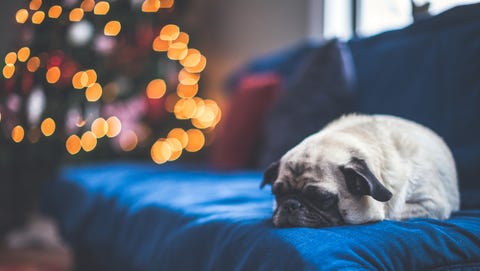 In the chaos of the holiday season, it can be all too easy to ignore the impact of the tumult on Fido or Socks (or Xerxes, or Mr. Buttons, or whoever else shares your home). Human holidays are a joyous time to visit with family, travel, and host visitors. But dogs and cats can wind up finding the holidays particularly stressful. Here are a few tips to help your furry friends avoid stress during the holiday season.
Taking Your Canine or Feline Family Along
The first big choice is whether to bring your pets along or leave them at home. While the decision depends a lot on your particular pets, there are a few general trends. Cats tend to handle solitude pretty well if you can manage that and get a sitter in to check on them daily or, if you can afford it, stay over.
Dogs present a tougher choice. While they tend to want to stick to a routine, they're liable to get lonely. On top of that, leaving the dog behind can be expensive. Overnight sitters can run anywhere from $50 to $100 a day. Even if you don't hire someone for overnight, dogs need to be walked several times a day and fed and played with, whereas cats can generally get by on one visit per day.
If you decide to take your pet on a trip with you, it should have ID tags, and you should carry copies of documents showing that the animal is up-to-date on vaccinations. If your pet is microchipped (which is a good idea if you are traveling with it), the microchip should have your contact information embedded.
Make sure your pet is in good health if you are taking it with you. If your pet is elderly or ill or dislikes travel, it will do better staying at home with a friend or family member or at a boarding facility (ask your vet for a recommendation). It may be difficult to leave an animal in a boarding home but it may also be what's best for the pet. They will not be happy or even safe on a long trip if they don't like traveling, even if they like you.
If you are going to another country, plan way ahead—the American Veterinary Medical Association (AVMA) suggests that you begin doing the paperwork six months beforehand. You will need a certificate of veterinary inspection from a federally accredited veterinarian and may need an endorsement on that certificate from the USDA.
If you are driving, a cat or a small dog should be in a comfortable carrier in the backseat. Don't travel with your dog hanging out the window or in the back of your pickup truck. Take familiar bedding and toys. For larger dogs, a sling that fits over the headrests on the front seat can keep your dog in the back, so it doesn't start exploring the armrests while you're driving. You can also get a harness for a dog and hook it to the seat belt, which many animal-care sites recommend. Whatever you do, don't let dogs sit right by the driver's feet.
*******************************************************************************************************
COMMENTS FROM LOVINMYPUP.COM:
Do you plan on bringing your fur babies to your celebration  dinners at friends and family's homes?.   Here are some tips that you need to ensure that both you, your pet, and everyone else has a great time.  Make sure you read this so you can handle any issues hat may come up.    Happy Holidays!
Don't forget to check out the banner/links to the various on line stores to the right of this page  (lap top) or beneath the article (smart phone).  There are traditional pet stores as well as well as  specialty stores for gifts that would make any pet parent ecstatic!  There is also a link to Amazon and Walmart where you can purchase anything that they sell.
We are delighted to have n affiliate agreement with  Embark Vet (DNA testing for pups).    This testing not only provides a DNA profile but also provides genetic information on various propensities towards genetic illnesses that your pup might be prone to based on their breed.   It is well worth the fee for all of the information that you get from the finished report.    I ordered a kit and had my Bella tested.   I received a 16 page report answering all of the questions that I had about my service dog!   The great news was that Bella has no genetic tendencies for 4 of the 5 most common deadly diseases prone to Doberman Pincers, Weimeraners and other large breeds..   This company provides one of the most complete genetic testing profiles that I have ever seen.  If you have questions – check out this site for report examples.  They also continue testing as new information becomes available..  I just received an update from Embark/Doberman Diversity Project who has now refine the testing for DCM.   .  Having this knowledge will help us and our Veterinarian monitor for beginning signs of this deadly disease and provide early treatment.
If you are in need to order pet supplies and you use Petco,. 1800 PetMeds,, or  Chewy.com,  you can order directly from this site.   Just click on the preferred  link and shop for traditional  pet products,  as well as unique gifts for the pet fanatics on your shopping lists!  ** Please note that Lovinmypup will receive a small percentage  from each purchase.through the links on this site.    This percentage helps us keep the site hosted so we can bring you the information and education that you need.
 We thank you in advance for your assistance in keeping this site operational.
Purchases through these links  help me keep this site up and running.
Make sure you share your love with your pet each and every day!
EACH PURCHASE MADE THROUGH THIS WEB SITE FROM  AMAZON OR ANY OTHER BANNER LINK WILL GENERATE A SMALL PERCENTAGE PAYMENT TO LOVINMYPUP.COM.    THANK YOU FOR HELPING TO KEEP THIS SITE ON LINE