by Guest Blogger for Animal Bliss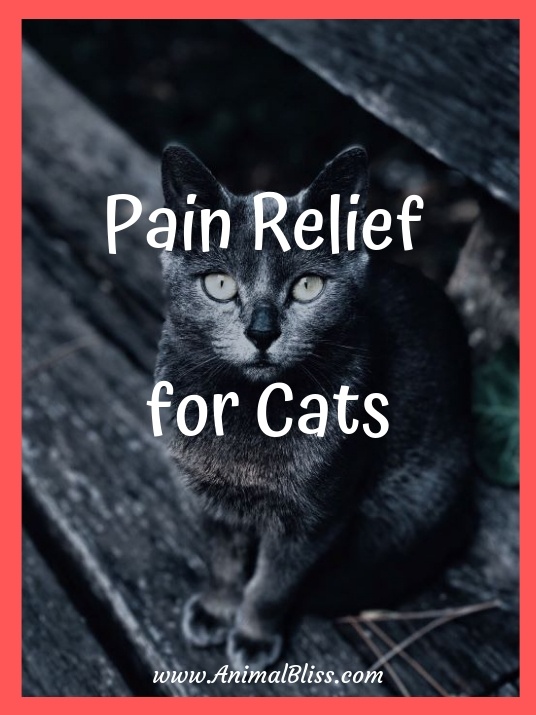 Natural Pain Relief for Cats
Signs of pain in animals can be subtle and may require you to keep a lookout for signals your pet gives. Cats often hide their pain, so you have to be particularly observant and look for changes in behavior that may indicate signs of distress.
Arthritis is one of the major and frequent causes of pain in cats and recognizing the signs of arthritis in cats is difficult. Many foods and supplements available act as natural pain relief for cats. One of these supplements is Pet Bounce, a multivitamin meant for your pet's bones. You can opt for pet bounce natural pain relief for cats which contains a nature-based liquid formula.
Photo by Yousef Espanioly on Unsplash
Following are the top 5 foods and supplements that act as natural pain relief for cats:
 1. Animal-based Protein
Proteins are essential for good health and proper functioning of the body. Cats need a lot of proteins, and animal-based proteins are best for cats because they contain both essential and non-essential amino acids and are also easier to digest. Give your cat high-quality animal-based protein and protect their joints.
2. Vitamin C for Gum Health
Vitamin C is necessary for growth and development and is vital for the formation of collagen. It is crucial for your cat's joint health. Supplementing your pet with Vitamin C will also keep their gums and teeth healthy. Add Vitamin C rich foods in your cat's diet or feed them with Vitamin C supplements.
3. Turmeric for Inflammatory Conditions
Another favorite herb that is beneficial for cats is turmeric. Turmeric helps in the treatment of cancer, heart-related problems, and other inflammatory diseases. Plant-based or herbal ingredients act as good pain relievers for cats and It is excellent for cats that may be experiencing joint pain.
RELATED:
CBD for Your Dog: Important Things You Should Know
4. Gelatin
Gelatin has many health benefits and is also an effective remedy for cats suffering from pain. It is essential for your cat's growth and development of tissues and healthy skin, as well as strengthen tendons and ligaments.
5. Fish Oil for  Joint Health
Fish oil is a wonder supplement that you should add in your cat's regime. It helps to relieve pain and keeps your cat's joints healthy. It also reduces shedding and promotes a healthy coat. Consult with your vet for the appropriate amount of fish oil in your feline's diet.
Consider pet bounce supplement for pet bones, an effective homeopathic-based medication, to help protect your cat's bones and ease the suffering from joint pain.
Conclusion
These are some of the best options which can be used to reduce pain. Try and add any of the supplements mentioned above to your cat's diet. However, be sure to speak to your veterinarian first for the correct dosage.
~~~~~~
"Natural Pain Relief for Cats: Top 5 Food and Supplements"
Guest Author Bio: Kathreen Miller is a pet health expert. She lives in Chicago with her daughter and pet dog, Buddy. Kathreen regularly contributes articles to pet health-related websites and blogs. In her free time, Kathreen loves listening to music, watching TV, and traveling.
*************************************************************************************************************************************
COMMENTS FROM LOVINMYPUP.COM:
If your feline fur baby is in pain, here are some products that can help reduce the pain that your fur baby is experiencing,    There are several options to chose from.
Do you need pet supplies?  Don't forget to check out the banner/links to the various on line stores to the right of this page  (lap top) or beneath the article (smart phone).  There are traditional pet stores as well as well as  specialty stores for the unusual  gift for the pet parent who has everything!     There is also a link to Amazon and Walmart where you can purchase anything that they sell.
We are also proud to announce a new affiliate agreement with Wolfgang USA.  This company sells American made products for your precious fur babies like amazing leashes and collars and much more.    Plus a full line of patriotic products.  Please check this out!
You can order from any of the links on this site like Petco, 1800 PetMeds,, or  Chewy.com and many more!   Just click on the preferred  link and order!.
Make sure you share your love with your pet each and every day!